Aries 2012 Predictions
Aries 2012 Predictions (March 21 - April 19)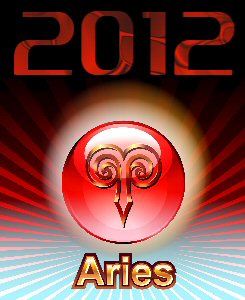 Aries, the very first sign of the zodiac, exudes a great sense of adventurism, enthusiasm, and seems to have an unlimited source of energy within them. Courageous Arians, those born between March 21st and April 19th and represented by image of the Ram, are chock full of admirable attributes and the upcoming year of 2012 is one that will prove to brimming with positive and well deserved change.
Love and Relationships: Aries 2012 Predictions
Family life improves this year, especially during the last two quarters, and Aries should look to the home front for solace while enjoying the strengthening bonds between spouses and children who both bring with them great happiness to the Ram.
Aries are always open to new ideas, thoughts and suggestions, and while they love their freedom, their great adaptability allows them to make the best of just about any situation. Single Arians shouldn't overlook the possibility of a chance meeting, particularly during the middle of the year, which could easily become a strong friendship before blossoming into love.
The Ram should work on their communication and people skills this year, learning how to be a little more supportive and tactful when dealing with less than ideal situations that may arise in interpersonal relationships. The rewards of doing so will be great when harmony and peace are the result whether it's at home or at work.
Career and Finance: Aries 2012 Predictions
Working Rams shouldn't hesitate to express themselves and their creativity this year as on the professional front, 2012 could bring about some great improvements, although they may not come to fruition until the year's second quarter. Expand your horizons and collaborate with likeminded people who are equally as driven while putting your best foot forward in the ever competitive world of business and industry.
Fortunately, Aries will start to have a clearer picture in terms of finance, allowing them to spend their money a bit more judiciously than they did in the past. However, the beginning of the year isn't favorable for things like pay raises, promotions, job changes, or investments, so it's probably best to wait until the third or fourth quarters for these and similar financial prospects to improve.
Health: Aries 2012 Predictions
Most all Arians should experience a year filled with good health in 2012, but the only caveat to this is getting the proper amount of exercise and the right nutrition. Setting aside time for rest and relaxation to stay balanced and calm is important for Aries who despite their high energy levels, tend to take on more than they can reasonably handle by compromising their own needs.
Do make it a point to take part in some outdoor activities and adventures, especially during June and July, to rejuvenate and balance your energy levels while getting in touch with nature.
Exciting and encouraging news for surviving 2012 are sprinkled throughout the year and in general, Aries will enjoy a year of changes that have been brewing for at least the past five years or more, bringing with them relief from troubling frustrations and anxieties.